1. SECURITY OF CLIENT DATA AND ASSETS
True North takes the responsibility of safekeeping clients' information and assets from fraudulent activities very seriously. While the SEC does not require cyber security insurance policies for registered investment advisors, True North proactively secured a cyber security policy through Chubb, an industry-leader for this type of insurance. Successfully completing the underwriting process with Chubb speaks to the strength of our systems, processes and procedures at True North. Additionally, we have numerous internal security protocols in place that are designed to protect clients from fraud, phishing scams, hacking, etc. True North's security protocols include a robust firewall, backing up our data to a secure, encrypted site twice daily, requiring employees to use two factor authentication for all websites that contain clients' personal and account data, confirming all wire transfer requests verbally with clients, and segregating access permissions among employees so that no one person has the authority or autonomy to trade a client's accounts, move cash, and direct investments. For client assets custodied at Schwab, Schwab covers 100% of any losses in any accounts due to unauthorized activity. Please click here for more information.
2.  ACTIVE VS. PASSIVE FIXED INCOME INVESTING
Passive fixed income funds have underperformed active management, despite their lower cost. As the below chart illustrates, over 50% of active bond funds have outperformed their passive peers net of fees regardless of fixed income sector or timeframe. This is primarily because bond indices are inefficient at allocating capital. By definition, the indices are overweight countries and sectors with the most debt outstanding. They also typically assume a higher degree of interest rate risk for a given amount of yield. For example, in 2016 treasuries were a much bigger part of the index, as compared to 2008, despite lower yields and high debt burden. In contrast, securitized bonds which look relatively attractive currently, have a much lower index weight as compared to 2008. Rather than blindly following the index, we weight our client portfolio fixed income exposure based on the opportunity set. Securitized assets are the biggest part of most client fixed income portfolios, and Treasury exposure is low.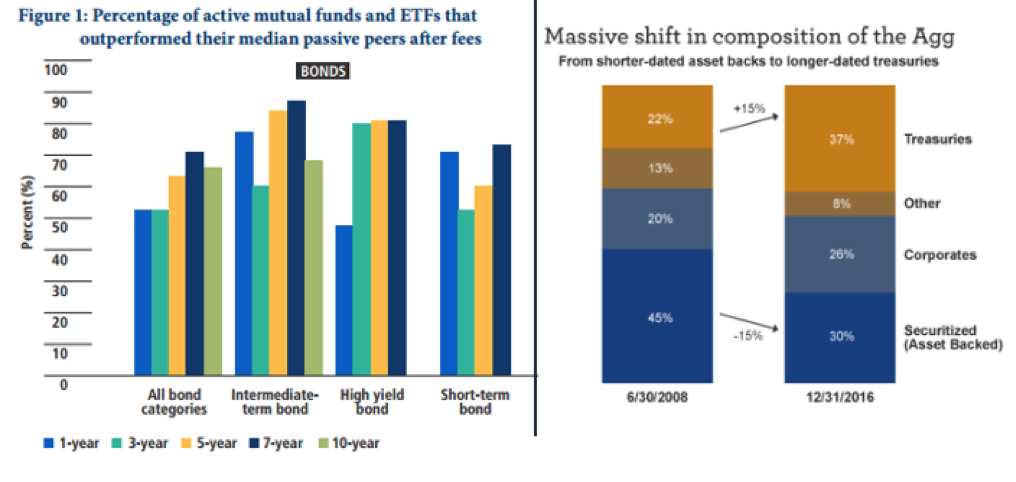 3. US DOLLAR WEAKENING
Year-to-date the US Dollar index is down approximately -5.0%. Therefore, our US focused Capital Preservation portfolios have lagged the Global Bond Index. Given the relative attractiveness of interest rates and yield levels in the US compared to those in the developed foreign markets, we continue to be comfortable with our positioning. Currency fluctuations are volatile short-term, but tend to balance out over the long-term. By focusing on true fundamentals, such as valuations, yield, and duration, we feel we are well positioned to generate attractive relative performance long-term.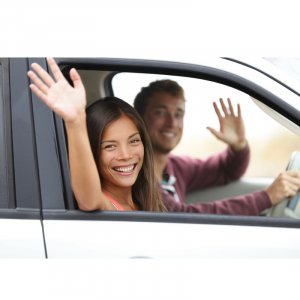 4. NEW DRIVERS 
Many parents are embarking on a new frontier this time of year: their teen getting a driver's license. Driving for the first time without help or supervision is a big responsibility. Driver's Ed prepares new drivers and teaches them the rules of the road, but it's on the parents to teach their new driver what the rules of your household are when they get behind the wheel. Take this time to be clear and specific about your expectations. Have a conversation, or even create a contract, that outlines rules, expectations, responsibilities, and consequences. This accountability can help set your teen up for success – and hopefully a clean driving record! Contact your Wealth Manager for help navigating insurance for a teen driver and samples of what to include in a new driver contract.
5. SUMMER INTERNS
We are excited to welcome our two summer interns! James Palmer is a personal financial planning major at Texas Tech and will be working with our Financial Planning Team. PJ Voorheis is a finance major at SMU and will be working with our Investment Team. Our core passion and purpose as a firm is to fulfill lives through wealth management, and we are very excited to share this passion (and some knowledge) with James and PJ this summer.
As always, if you have any questions, please do not hesitate to reach out to your Wealth Manager.  We value our relationship with you.  Thank you for your continued trust in True North Advisors.