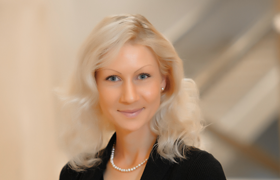 Svetlana "Lana" Kouzmenko joined the True North team in February 2012 as a Wealth Analyst. Lana is responsible for client portfolio allocation analysis, rebalancing and trading as well as leading ad hoc financial projects that support key client and business decisions. She also plays an integral role in ensuring the accuracy of data collected for client reporting, reconciliation and auditing.
Lana joined True North after graduating from Southern Methodist University with a Bachelor of Business Administration in Finance, Bachelor of Science in Economics and Master of Arts in Applied Economics. She also happens to be a world-class tennis player who competed all four years at SMU as the team's number one singles and doubles player.
Lana grew up in Minsk, Belarus and is fluent in Russian and Belarusian. She enjoys playing pool, golf, ping-pong, working out, teaching tennis and attending programs hosted by the Dallas Committee on Foreign Relations.
Email at: skouzmenko@truenorthadvisors.com