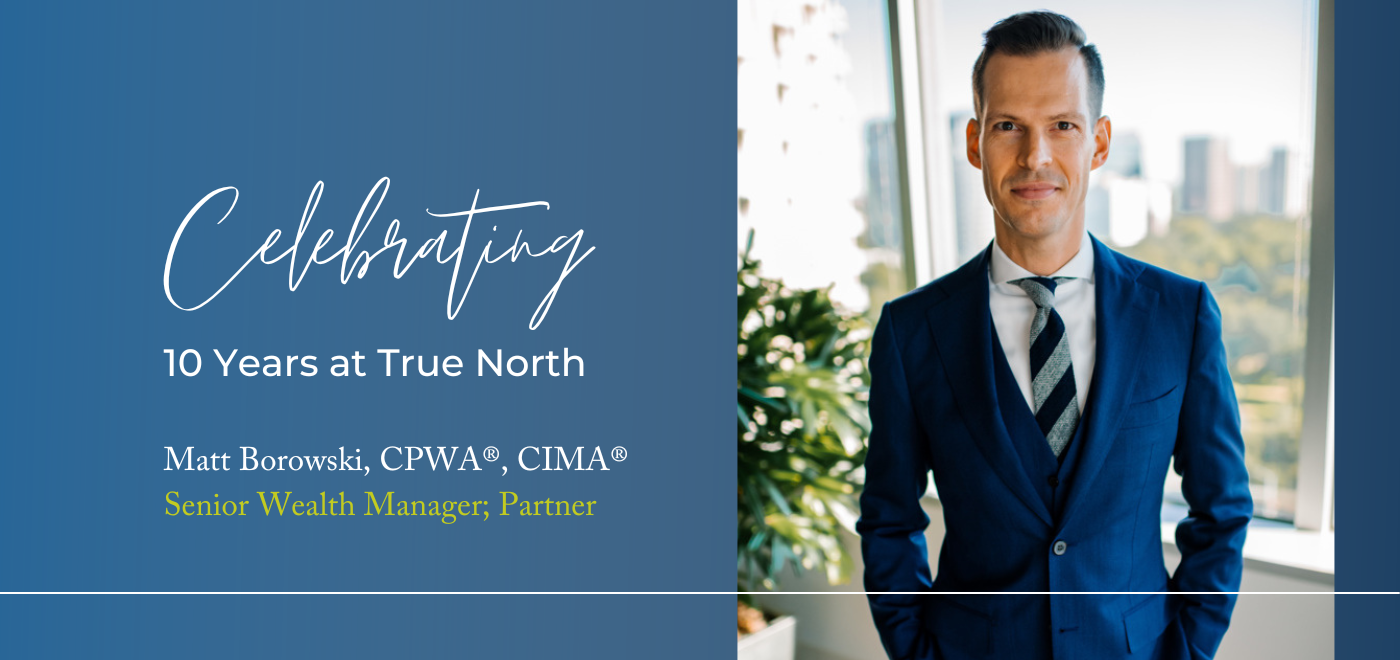 03.01.2023
Senior Wealth Manager and Partner, Matt Borowski, Celebrates 10 Years at True North
True North celebrates the 10th anniversary of Senior Wealth Manager and Partner, Matt Borowski, CPWA®, CIMA®. Matt joined the firm on February 25th, 2013, bringing with him a strong desire to lead, serve, and grow.
"As an organization, we celebrate Matt Borowski's 10-year anniversary with our firm," said Mark Gehlbach, President and Co-founder. "When I think about Matt, I think about his commitment to growth and excellence in all areas of his life. He is a dedicated husband, father, son, brother, colleague, and citizen," continued Gehlbach. "He encourages us all towards professional and personal growth and exemplifies the type of human being I am proud to have representing True North."
"I have had the privilege of working with Matt since he started at True North ten years ago and he consistently raises the bar for our team," shared Paula P. Davis, Managing Director, Dallas; Partner. "The combination of his 20+ years of industry experience, his deep understanding of investments and comprehensive wealth planning, and his sincere care and concern for his clients make Matt an exceptional advisor and an inspiration to his teammates," said Davis. "We are incredibly fortunate to partner with him and call him a friend."
Borowski consistently delivers prudent, thoughtful solutions for his clients. "All of the clients at True North have entrusted a lot to me and the other advisors, and not one of us takes that responsibility lightly," shared Borowski. "I show up every day to give my clients my very best, because I know that they're counting on me, and they're counting on us."
"Matt is the consummate professional and has been an incredible addition to the True North team over the last decade," shared Scott A. Wood, CEO and Co-founder. "He seeks perfection, in the best way, in every aspect of his life, and he is an incredible advisor and counselor to his clients," Wood continued. "We are blessed to have him on our team."
True North is sincerely honored to celebrate such a milestone with Matt. We look forward to being involved in and supporting his continued success as an advisor.