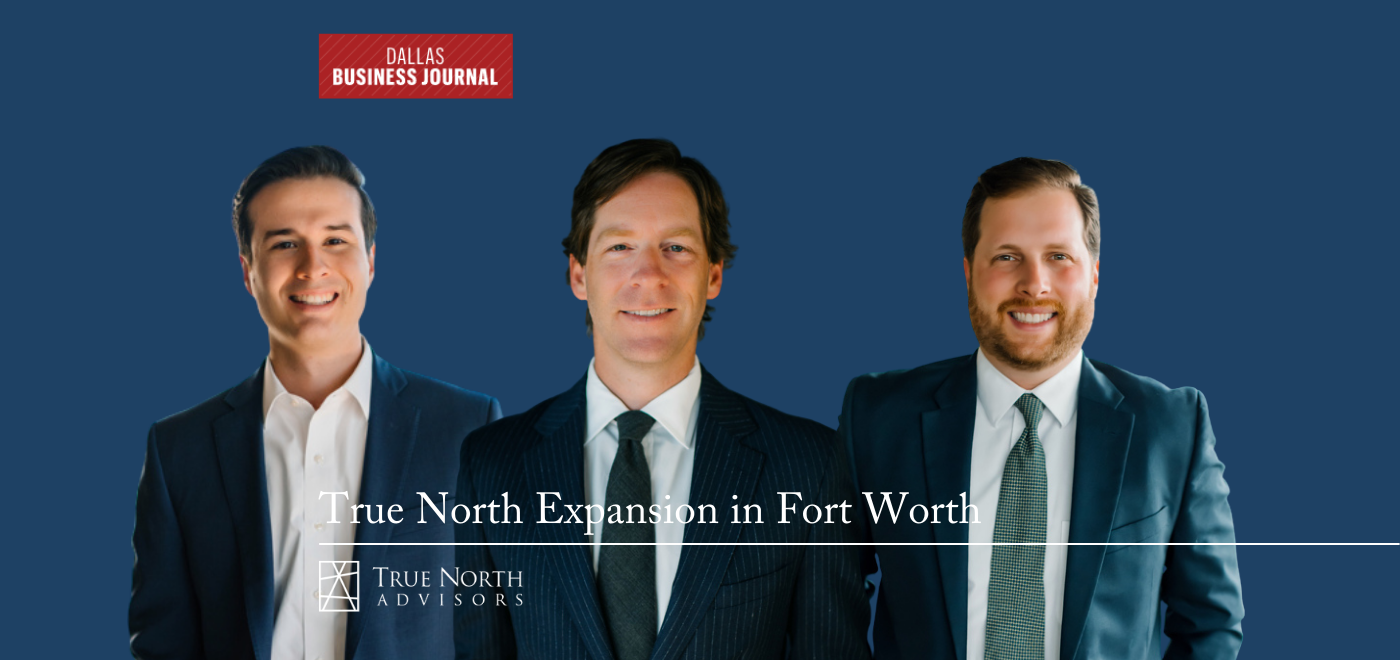 07.12.2022
True North Advisors Continues Wealth Management Expansion in Fort Worth
True North Advisors is expanding its wealth management team in Fort Worth as it sees increasing demand in the region.
The Dallas-based wealth management firm planted a presence in Fort Worth when it acquired Western Research & Management, which had $200 million in 2018. The firm has since grown the office to $700 million in assets under management, said Chris Pate, managing director and partner in Fort Worth, who joined the office with the acquisition.
True North's Fort Worth clients' portfolios are similar to those in Dallas, except they generally have more exposure to hard assets like real estate and energy, Pate said. The firm's asset allocation varies for each client, but for an average client, could be generally about 30% equities, 30% private investments, 20% income-focused securities and 20% alternatives or hedge funds, Pate said.
Pate added folks in Fort Worth prefer working with wealth managers based there.
"I feel like Fort Worth is more insular than Dallas on balance. What that generally means is, people in Fort Worth prefer to do business in Fort Worth," Pate said. "I do think there is a difference in mentality of people in Fort Worth versus Dallas. Fort Worth people are generally a little slower to move and value the relationship even more."
The firm is growing its Fort Worth team, including Pate, Portfolio Analyst Preston Morrison and Senior Wealth Manager Zak Kuhlman, who joined the office in May. Pate added that True North is slated to hire two more team members next year.
Kuhlman, who most recently served at Crow Holdings-affiliated CH Investment Partners and moved to Aledo in 2018, added he thinks that a growing business environment and population in Fort Worth will continue to fuel activity at the firm. He said his move to True North's Fort Worth office fit geographically and professionally.
"My background is as a utility player," Kuhlman said. "(Pate) was looking for somebody to help manage the day-to-day for these families that have significant complexity — not only their asset allocations, but their entity structures, their wealth transfer techniques they're working on."
Pate added that he thinks True North has more opportunity since it's an independent wealth management firm with no internal products, especially in Fort Worth, where fewer firms exist than in a market like Dallas.
Full article can be viewed online at Dallas Business Journal here.