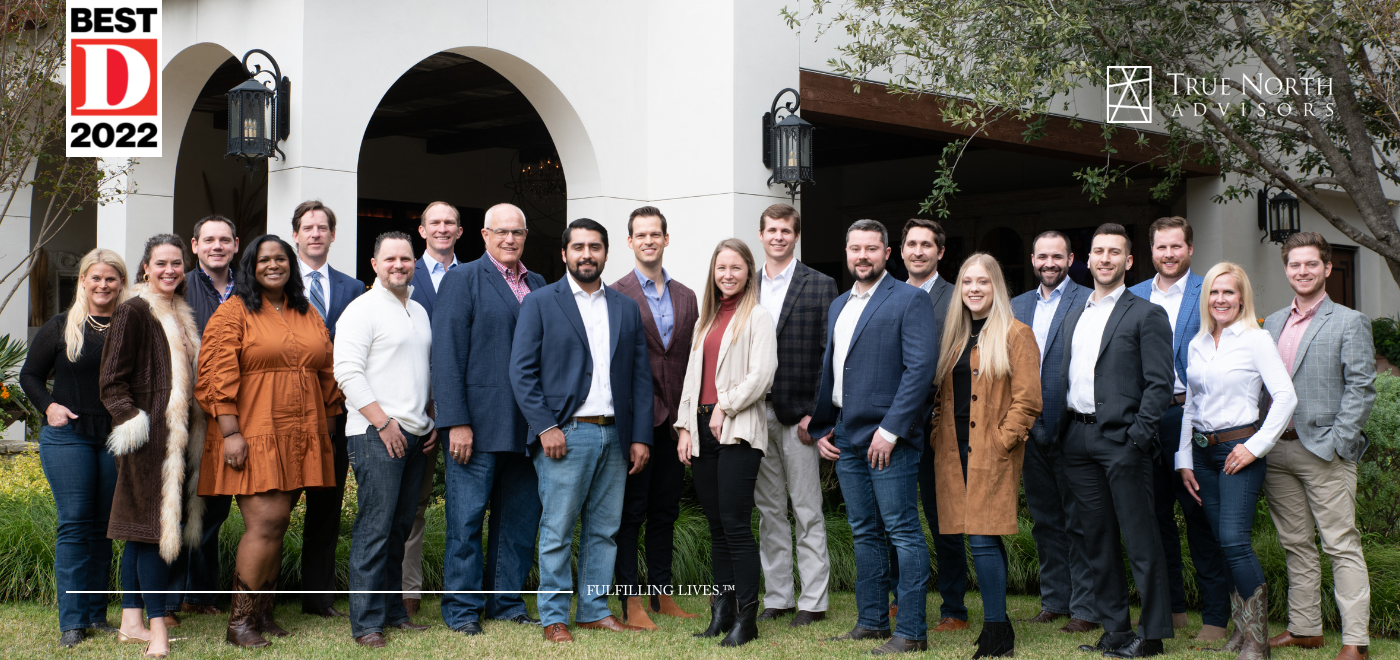 11.17.2022
True North Advisors Recognized as Top Wealth Management Firm and Best Financial Planner by D Magazine
November 18, 2022 (Hotel Drover, Fort Worth) – True North is honored to announce that we have been recognized as one of D Magazine's Top Wealth Management Firms and Best Financial Planners in their annual Best of List. We are extremely grateful to our team for their commitment to innovation and out-of-the-box thinking that continues to propel the firm forward.
In 2018, there was an increase in demand for institutional quality wealth and investment management solutions in North Texas. We identified an opportunity to bridge that gap and opened an additional True North office in the heart of Fort Worth's cultural district. Of the firm's $2.9B+1 assets under management, over $700 million2 of those are across Fort Worth and West Texas.
Since opening our Tarrant County location, we host an all-day meeting in Fort Worth each Fall to collaborate, strategize, and connect with our peers. This gives us an opportunity to reflect on our expansion, consider our next best opportunities, and discuss how we can continue to enhance our offering, elevate our client experience, and enrich the culture of our team.
This year, we are proud to highlight and recognize our advisory team, wealth planning team, investment team, and operations team for their incredible contribution to the firm. It's because of their willingness to succeed and dedication to our clients, colleagues, and community that we continue to receive such achievements.
To read more about the 2022 D Magazine Best of List, please click here.
Front Row (Left to Right):
Kellie Crewse, CPWA®, Senior Wealth Manager; Mykael Young, Client Onboarding Analyst; Caleb Brian, CFP®, Director of Wealth Planning; Jay McAuley, Senior Director of Strategic Relationships; Ivan Salazar, CFP®, APMA®, Associate Wealth Manager; Maddie Westerhold, Associate Wealth Manager; Ryan Brown, Associate Wealth Manager; Jamie Scott, CFP®, Wealth Planner; Colin Bindner, CFP®, Wealth Manager; Paula P. Davis, Managing Director, Dallas; Micah Adams, CFP®, CAP®, Associate Wealth Manager
Back Row (Left to Right):
Tara L. Scottino, CFP®, Senior Wealth Manager; Brian Heider, CFA®, CAIA®, Senior Director of Investments; Chris Pate, Managing Director, Fort Worth; Chris Conlan, CFA®, Director of New Business Relationships; Matt Borowski, CPWA®, CIMA®, Senior Wealth Manager; Nick Greenberg, Associate Wealth Manager; Adam Farris, CPA®, Wealth Manager; Braden Cole, CFA®, Senior Wealth Manager; Zak A. Kuhlman, Senior Wealth Manager
1 – AUM as of 3/31/22
2 – AUM as of 7/12/22
Disclaimer: Selection for this award is based on submissions from wealth management firms in the Dallas-Fort Worth chapters of the Financial Planning Association® and the Investment Management Consultants Association®. The final list was selected based on these criteria: top firms must have total assets under management for individual clients of at least $100 million; a 95 percent client retention rate in the last two years; no current disciplinary action; and at least five years of experience. They must also be a fiduciary for their clients, and their compensation model cannot be commission-based. A panel of local wealth managers reviewed the final list. Neither the award winners nor their employees pay a fee to D Magazine in exchange for inclusion in the Top Wealth Managers in Dallas list.