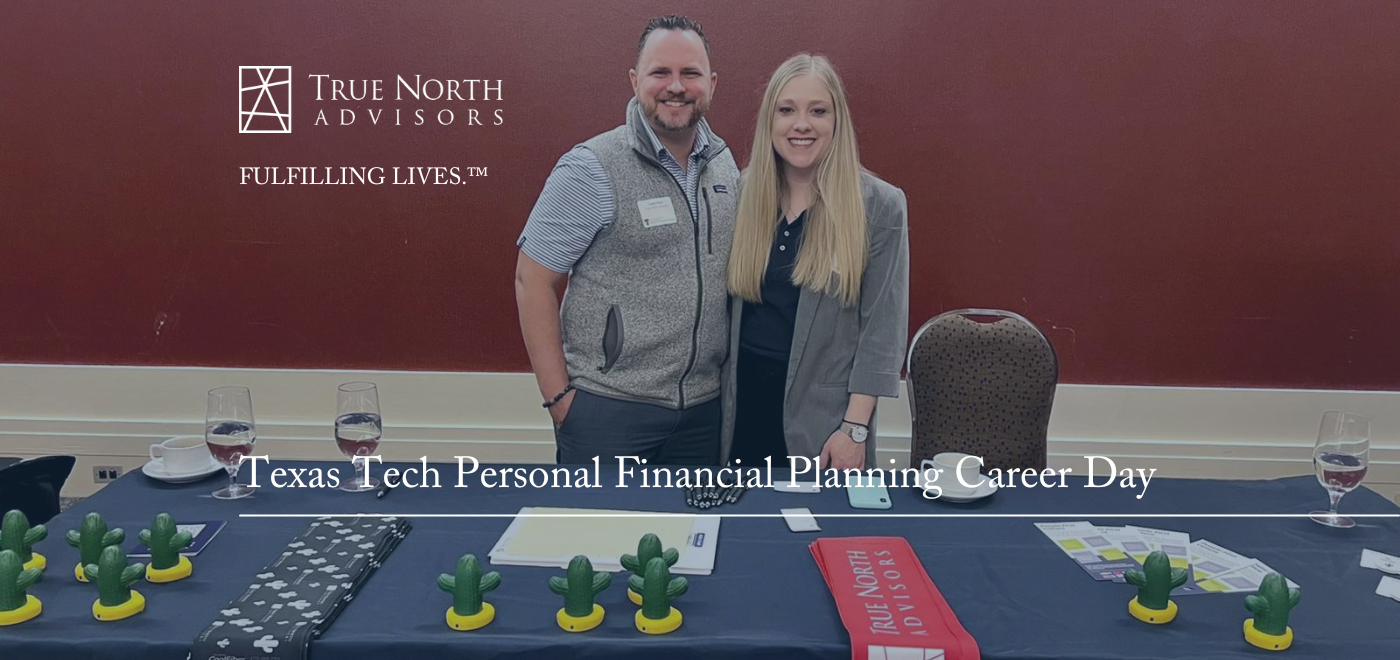 10.31.2022
True North Attends Texas Tech University's Personal Financial Planning Career Day
True North Advisors made its annual trek to Lubbock on October 22nd to participate in Texas Tech's Personal Financial Planning (PFP) Career Day. The PFP program has been ranked #1 in the nation by Wealth Management Magazine. According to the magazine, Tech was one of the first universities nationwide to offer Personal Financial Planning bachelor's and master's degrees. Additionally, Tech pioneered the doctorate program for Personal Financial Planning.
"Fall Career Days at Texas Tech are an amazing opportunity to begin building authentic relationships with a range of students and potential hiring candidates. Each year we have the privilege of previewing a fantastic new group of students working their way through the robust planning program at TTU," said Caleb Brian, Director of Wealth Planning at True North, and a Certified Financial Planner (CFP®). Brian graduated from Texas Tech ('11) with a degree in Personal Financial Planning and knows firsthand the impact the program can have for a student seeking a career in the wealth management industry.
"As a growing firm that has a strong demand for new talent, the best time to step into the flow of traffic is during the years when these students are developing their skills and discovering their professional passions," Brian continues. "These events also provide an excellent occasion to connect, coach, and mentor those who will be future leaders in the industry, while also sharing ideas and best practices with other alumni, firms, and advisors from across the state."
The PFP program at Texas Tech was created in 1986, according to the university's website. Bill Gustafson, who helped create the program, said it has been supported and favorably recognized by the leadership of the university, the alumni of the program, and the Wealth Management industry. Texas Tech's PFP program became one of the first 20 university programs registered by the Certified Financial Planner Board of Standards in 1986 and 1987.
"Being able to participate in this event each Fall at Texas Tech is special. It provides companies like ours a sneak peek at an incredible talent pipeline and further demonstrates how strong the Tech planning program is," said Jamie Scott, Wealth Planner at True North, and Certified Financial Planner (CFP®). Scott also holds both an undergraduate degree ('14) and graduate degree ('16) from Texas Tech. "As an alum of the PFP program, it's wonderful to have a chance to connect with current students and share my unique story about how I found my career path. The RIA space is constantly in need of talent, and any support we can bring to the collegiate financial planning programs and their students is a win," said Scott.
Over the years, the Department of Personal Financial Planning (PFP) at Texas Tech University has become an establishment of excellence in education for past, current, and future financial planners nationwide. To learn more about this program, the degrees offered, and program requirements, click here.