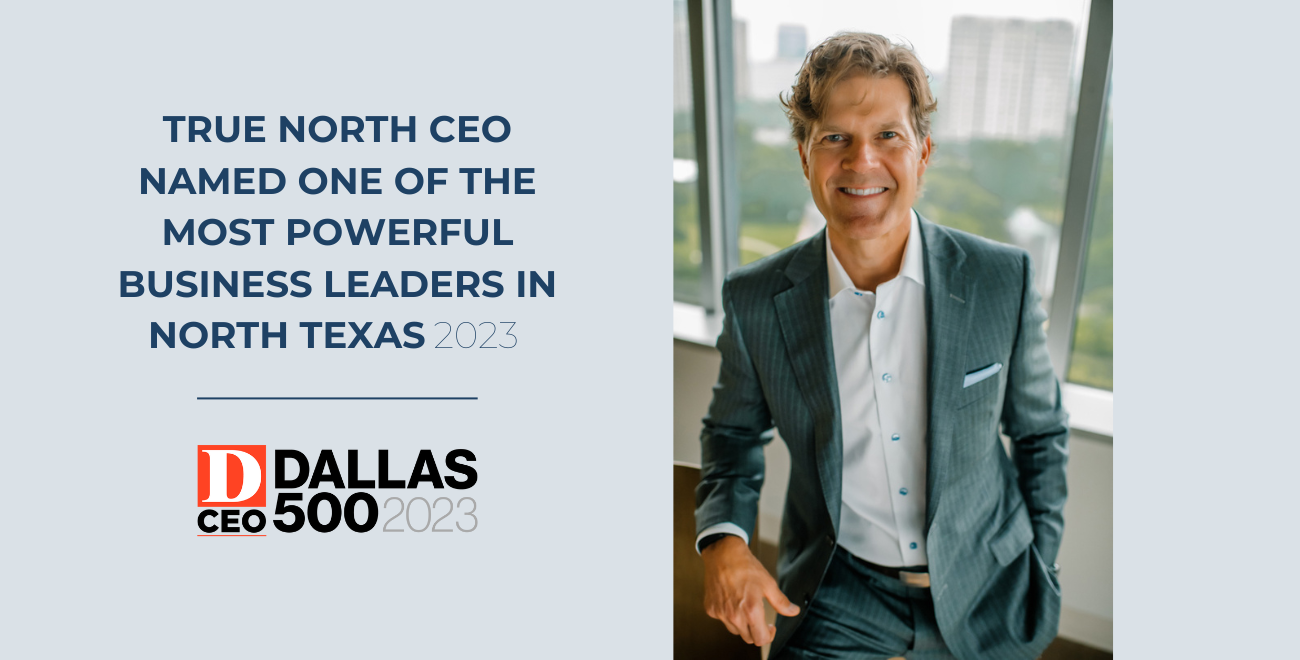 11.30.2022
True North CEO named one of the most powerful business leaders in North Texas 2023
True North's CEO and Co-founder, Scott Wood, has been recognized by D CEO in their annual publication of the Dallas 500. This special edition profiles the region's most influential business, civic, and nonprofit leaders each year, and features nearly 200 new names in the 2023 edition.
Being an entrepreneur at his core, Scott endeavored to build something different from day one. With an eye for innovation, he aimed to create an enterprise that went above and beyond traditional wealth management. Over 22 years later, Scott and Co-founder, Mark Gehlbach, still consistently seek unique ways to expand True North's offering and enhance the client experience.
"Scott has an infectious entrepreneurial spirit and growth mindset," shares Paula Davis, Managing Director, Dallas. "His passion and desire to innovate are palpable and create a positive and exciting work environment," Davis continues.
Along with his commitment to the firm, Scott is deeply committed to community service. He sits on many boards and organizations in Dallas, including Chairman of the Momentous Institute Board (Momentous being the sole charitable beneficiary of the Salesmanship Club of Dallas), Treasurer of the Tom Landry FCA Foundation, and Park Cities Baptist Church's Long-Term Planning Committee. He's also an active member of YPO Gold-Dallas, YPO Gold-Maverick, and the Salesmanship Club of Dallas.
To read more about the 2023 Dallas 500, please click here.
Disclaimer: Dallas 500 is an annual publication produced by the editors of D CEO, the award-winning business title of D Magazine Partners. It features insightful profiles of the most influential leaders in Dallas-Fort Worth. Along with introducing readers to under-the-radar influencers, the book shares personal details of the top executives, their strategies for success, and what makes them tick. The luxury publication is printed on heavy stock and designed to be both an exclusive reference tool and keepsake. Dallas 500 features the region's most influential leaders across the region in about 60 different industry categories. D CEO editors leverage extensive contacts in local business circles and do hundreds of interviews and perform months of research to compile the list. Influence can wane; each year, new names are added while others fall off. In the 2023 edition, 189 people are new to the book. Dallas 500 is in perfect alignment with D CEO magazine's mission of connecting top executives in North Texas. For further disclosures about this award, please visit our General & Awards Disclosures page.