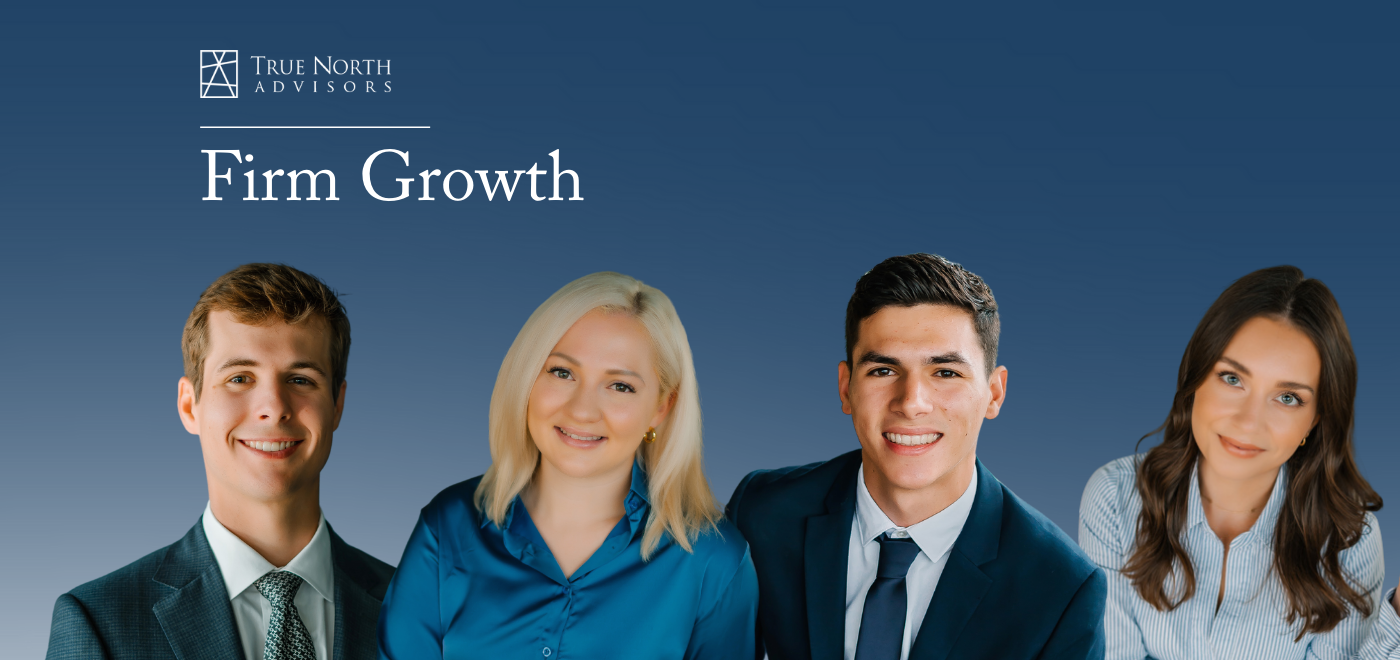 08.23.2022
True North Growth Ignites Expansion of Team In Key Support Roles
August 23, 2022 – As summer concludes, we are reflecting on the recent growth of our firm over the last several months. At True North, acting as a unified team and serving clients with a people-first mindset are the cornerstones of our success. These guiding posts allow us to consistently focus on values, connections, and goals in order to fulfill and enrich the lives of the families we serve.
Today, we are pleased to announce several new hires in support roles that serve key business functions of our firm, and continue to drive our missional purpose of Fulfilling Lives.™
Nick Greenberg joins us as an Associate Wealth Manager in our Wealth Advisory business segment. Nick collaborates with the Senior Wealth Management Team to help deliver innovative wealth and investment solutions. Nick is results-driven, highly observant, and eager to grow as a disciplined steward of wealth. Nick previously worked as a summer associate with Cypress Point Wealth Management. Nick grew up in Dallas and graduated from Washington & Lee University with a Bachelor of Science degree.
Carly Biagas joined True North as an Administrative Assistant supporting our Director of New Client Relationships. Carly helps our Business Development Team deliver the highest level of service to our prospective clients and families. She acts as an additional conduit between new clients and our Client Onboarding and Operations Team to ensure a seamless, positive, and efficient experience. Carly is a graduate of Louisiana State University, earning a Bachelor of Science in Interdisciplinary Studies consisting of Business, Entrepreneurship, and Political Science minors.
Caleb Clasen was recently hired as a Client Operations Analyst where he serves our clients in an effective and efficient manner. His duties include account administration, transactions and reporting. Caleb delivers strong attention to detail to ensure that each service request is completed accurately and in a timely manner to meet the ongoing needs of our clients. Caleb graduated from The University of Texas at Dallas (UTD) with a Bachelor of Science in Finance. He is currently pursuing an MBA from UTD.
Oliwia Dziedzic, originally from Poland, recently joined True North as our new Office Coordinator. She brings a deep background in the hospitality industry and serves as an additional resource for our client experience program. Oliwia maintains our highly detailed reception and administrative processes while leveraging exceptional organizational skills and discretion. Her service-focused mindset allows her to deliver a curated, positive client experience with every interaction. Oliwia received her Bachelor's in International Business and her Masters in American Studies and Mass Media from the University of Lodz in Poland.
If you are interested in a career at True North, please visit our Careers page to view our current open positions.