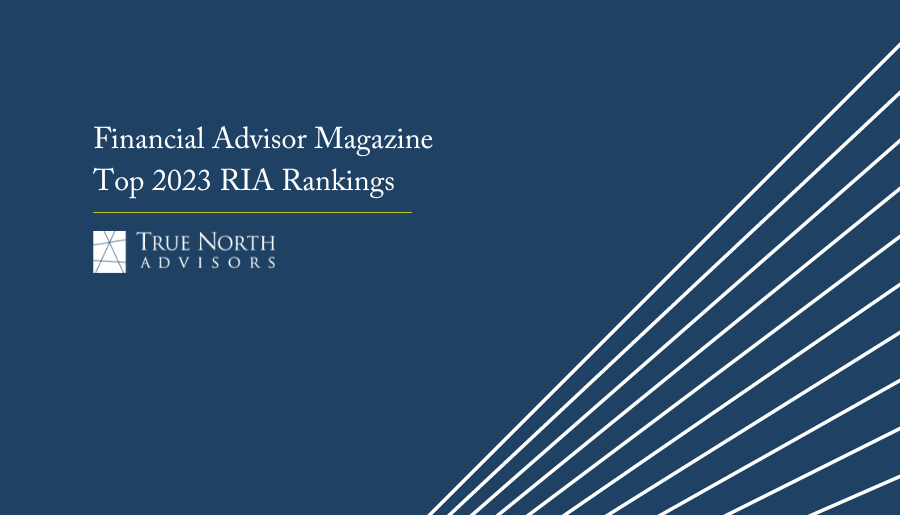 08.29.2023
True North Ranked in Top 1% of RIAs Nationally
Financial Advisor (FA) Magazine recognized True North Advisors in their 2023 Top RIA rankings HERE, putting the firm in the top 1% of all RIAs nationwide (15,000 firms nationally).
According to FA's research, the average (based on the mean) firm in Financial Advisor's 2023 survey saw a 5.45% increase in client relationships and a 19.81% decline in assets under management. The median number of clients rose a more modest 1.2% and median AUM fell 12%. Additionally, FA states that 53% percent of those RIA firms surveyed in Financial Advisor's most recent survey said that assets from new clients accounted for most of their 2022 inflows, with 36% citing assets from existing clients. The survey further indicated that it could be that turmoil in other sectors has once again shown potential clients that their funds might be safer in RIA relationships.
In comparison, True North's revenue has increased by greater than 10% for six straight years, with a Cumulative Annualized Growth Rate ("CAGR") of over 17% for the last five years. While last year (2022) was a down market, True North's topline revenue still increased by 19.3% with AUM growing by 5%. The firm has achieved year-over-year revenue records despite experiencing a pandemic from 2020 forward and a down year in the markets in 2022.
Disclaimer: FA's RIA ranking orders firms from largest to smallest, based on AUM reported to FA by firms that voluntarily complete and submit FA's survey by the deadline. FA verifies AUM by reviewing ADV forms. True North did not paid for or solicit this recognition. Selection for this award is based on online ballots cast by other Registered Investment Advisor firms ("RIA"). The selected ballots were then ranked based on 12/31/2022 Regulatory Assets Under Management. A selection to the list is not necessarily indicative of any particular client's experience.