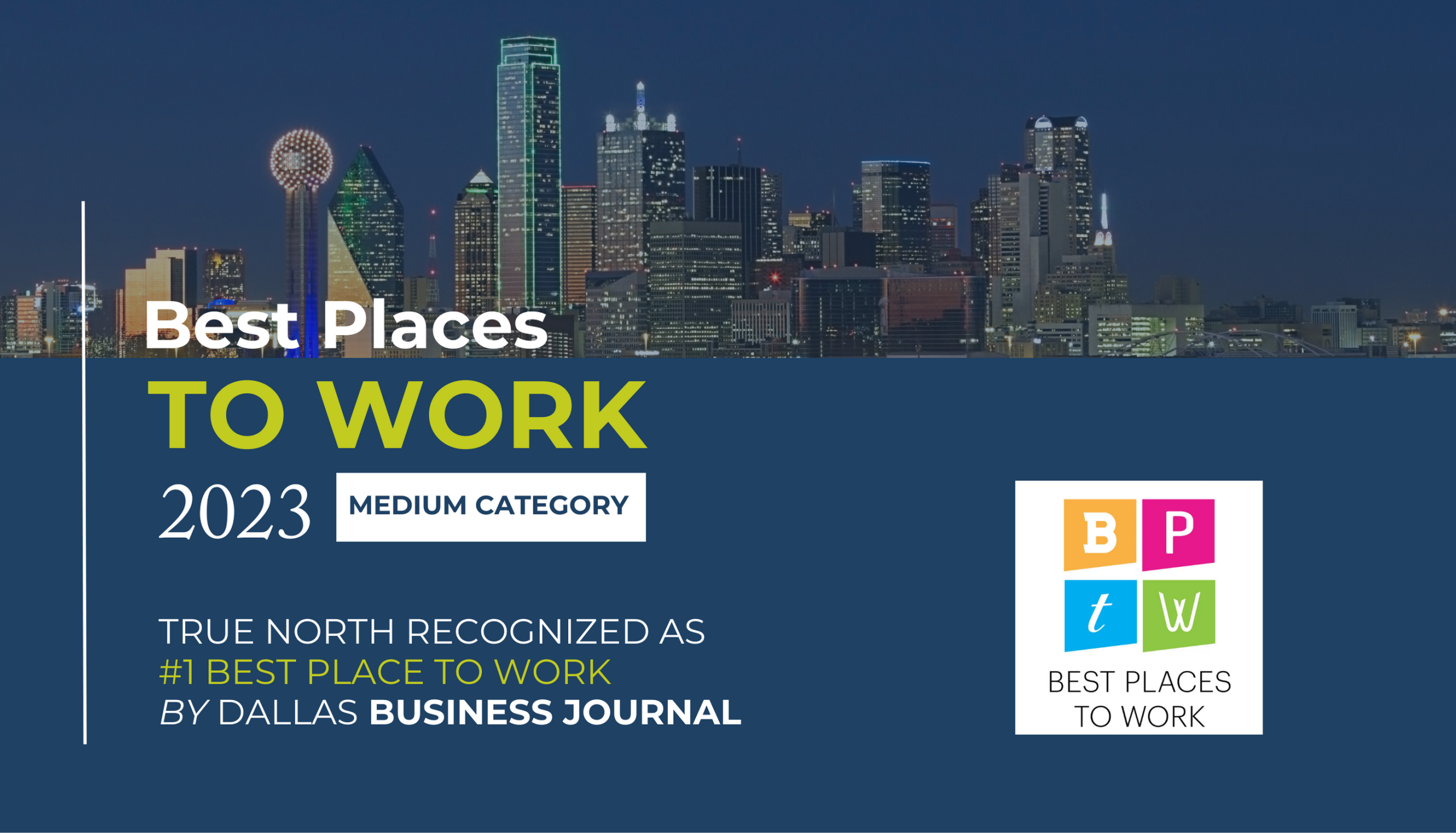 10.25.2023
True North Recognized as #1 Best Place to Work by Dallas Business Journal
We are thrilled to announce that True North Advisors has been named the #1 Best Place to Work by Dallas Business Journal in the medium-sized category. We have always believed that a happy, motivated, and engaged workforce is the heart of our success, and this recognition further illuminates that conviction.
"It's a tremendous honor and a testament to our incredible team," shared Mark Gehlbach, President and Co-founder of True North. "We are immensely proud of this accomplishment, and it only motivates us further to raise the bar in delivering an engaging and supportive culture," Gehlbach continued.
"We believe that our people are at the heart of our success, and this accolade reaffirms our dedication to fostering a positive, supportive, and inclusive work environment," said Elaine Kinnee, Director of Human Resources. "We believe that when our team thrives, our company thrives," Kinnee continued.
This incredible recognition is a testament to our unwavering commitment to excellence in serving our valued clients and creating an exceptional workplace for our dedicated team. The core of our hiring philosophy has always been to attract, nurture, and retain the best talent.
"We recognize that when our team succeeds and feels valued, they are better equipped to serve our clients and their families with the highest level of expertise, passion, and dedication," said Scott Wood, CEO and Co-founder.
Thank you to our employees who make coming to work every day a true pleasure. You are our greatest asset and we look forward to a future filled with more success, growth, and shared accomplishments.
Disclaimer: Organizations are sorted into categories based on their respective employee counts across five categories: micro, consisting of companies with 10 to 24 employees; small, with 25-49 employees; medium, with 50 to 249 employees; large, with 250 to 499 employees; and extra-large, with 500 or more employees. The companies that took the No. 1 spots in each category received the highest employee survey scores based on an index created by Quantum Workplace. The highest possible survey score is 100. True North earned a 96.1. True North did not pay for inclusion on this list. Their rank was solely based on anonymous feedback provided by the firm's employees on the survey created by Quantum Workplace. A selection to the list is not necessarily indicative of any particular client's experience. Neither the companies nor their employees pay a fee to Dallas Business Journal in exchange for inclusion in the Best Places to Work in North Texas list