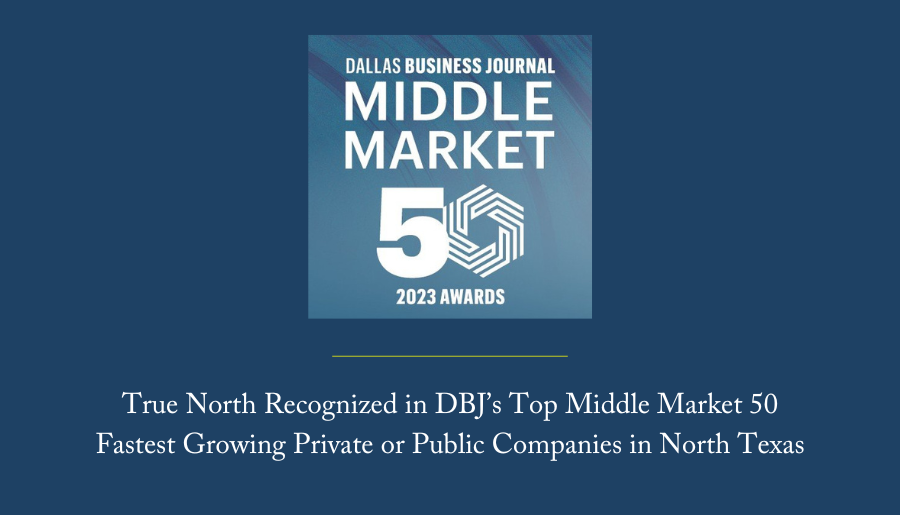 10.19.2023
True North Recognized in DBJ's Middle Market Top 50 Fastest Growing Companies
True North Advisors is honored to be recognized by Dallas Business Journal as one of the 2023 Middle Market Top 50 fastest-growing private and public companies in North Texas.
Since the founding of the company over 23 years ago, we have consistently strived to push the boundaries of what's possible. Our business has not only expanded its horizons, footprint, and solutions, but our strong sense of teamship proves that perseverance and innovation can overcome the many challenges that an organization experiences along the way.
At True North, it's not just about the numbers on paper. It's about the collective effort, our entrepreneurial spirit, the open brainstorming sessions, and the unwavering commitment to our clients and each other. Our restless pursuit of growth is a testament to the synergy we've cultivated, the relationships we've nurtured, and the unyielding passion that defines us.
This recognition is not just a milestone; it's a steppingstone toward even greater accomplishments. It's a reminder that we are on the right path and that our determination is recognized by our peers and industry experts.
We want to take a moment to express our gratitude to every member of our team. Without their hard work, dedication, and belief in our shared vision, we wouldn't be where we are today. Our team's contributions have breathed life into our ambitions, and it's an honor to work alongside such incredible individuals.
As we focus on the future, we will continue to innovate, explore new avenues, and raise the bar even higher. Together, we will continue to grow, to inspire, and to make a lasting impact on our client families, colleagues, and community. Thank you again, Dallas Business Journal, for this honor.
 Disclaimer: The Dallas Business Journal's ninth annual Middle Market 50 list honors the region's fastest-growing private and public companies. Eligible companies have annual revenue between $10 million and $1 billion and are headquartered in DFW. The Middle Market 50 list ranks companies based on revenue growth over three years from 2020 to 2022. True North did not pay for or solicit to be selected in this list.