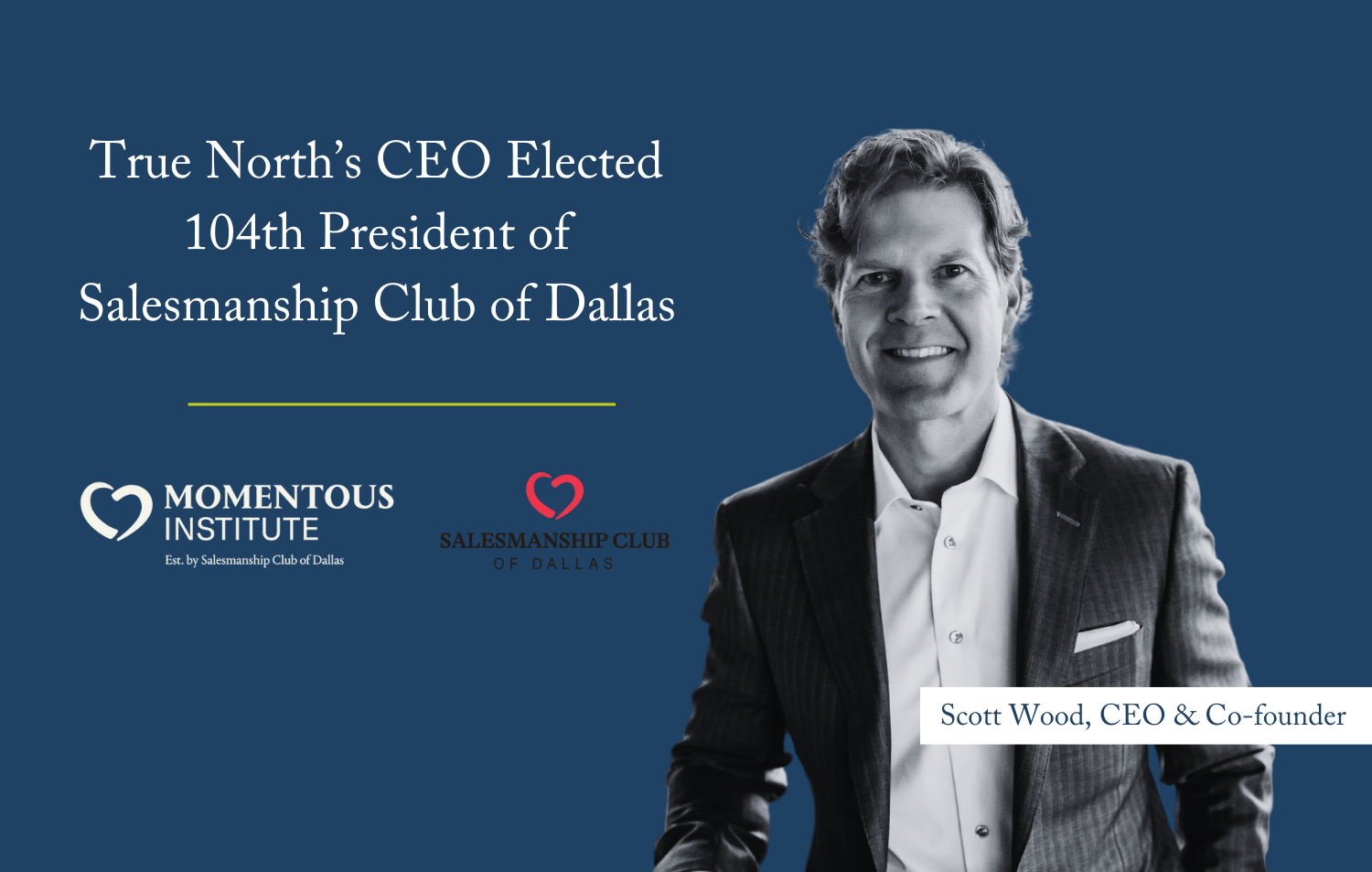 09.27.2023
True North CEO Named 104th President of Salesmanship Club of Dallas
Scott Wood, True North's CEO and devoted 14-year member of the Salesmanship Club of Dallas, has been elected as president of the Dallas-based nonprofit service organization. With an innate personable nature and an unwavering commitment to aiding others, Wood is poised to lead the organization into its 104th year of dedicated service.
"It is an incredible honor to have been elected to serve as the Club's 104th President. I am truly humbled, grateful, and excited about the opportunity to serve," Wood shared. For over 100 years, the Salesmanship Club of Dallas has been dedicated to strengthening the lives of children and families through Momentous Institute, which provides innovative mental health services, education, and professional training. Salesmanship Club of Dallas is also the host of THE CJ CUP Byron Nelson, which donates its proceeds to Momentous Institute.
"Throughout the year, this collective group of individuals works passionately to raise money through THE CJ CUP Byron Nelson golf tournament to support thousands of children and their families through Momentous Institute," Wood continued. "There is truly no other organization like ours and I'm humbled to be a part of it. It is going to be a great year!"
Wood places faith, family, and relationships at the forefront of his life's compass. He is deeply involved within his community and values the gift of people. Always seeking opportunities for personal and collective growth, Wood approaches the upcoming responsibilities with an enthusiastic spirit, fully aware of the honor and weight they carry. Prior to this appointment, Wood served as the chairman of the Momentous Institute board and will serve a one-year term, alongside six new members elected to the 2023-2024 Salesmanship Club of Dallas Board of Directors.
Wood is the CEO and co-founder of True North Advisors. He co-founded the company in 2000 with Mark Gehlbach, who is also a member of Salesmanship Club of Dallas. Jay McAuley, True North's Senior Director of Strategic Relationships, was also named 1st Vice President and will serve a one-year term in the role.